Courses of Study 2012-2013
[ARCHIVED CATALOG]
Graduate School
---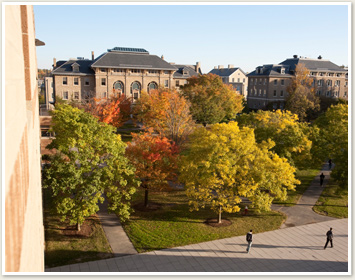 The Graduate School encourages an unusual degree of freedom and flexibility in our graduate program, emphasizing a culture of collaboration and interdisciplinary possibilities. We are organized into fields of study that are independent of traditional college and department divisions. Fields are formed when faculty members come together around a shared intellectual interest, and may draw from different campuses, colleges, or departments.
We support nearly 100 fields of study, many of which offer multiple graduate degrees at both the master's and doctoral levels. Our students can shape a course of study that cuts across interrelated field offerings and develop a distinctive academic framework with the help of a special committee of faculty advisors chosen by the student.
We are proud of the genuine sense of camaraderie among professors and students that would be impossible in a less intimate city or campus, and our field structure encourages relationships that cross colleges, campuses, and the globe.
The Graduate School provides a stimulating, challenging, and deeply rewarding environment that aims to develop and nurture the next generation.
Graduate School: www.gradschool.cornell.edu
---