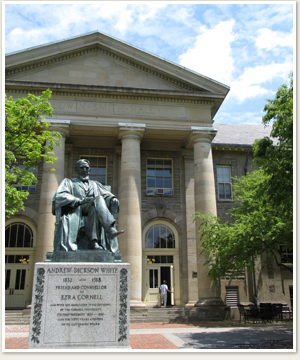 The College of Arts and Sciences is a community of about 4,200 undergraduates and 650 faculty members in over forty departments ranging from anthropology to economics to physics. Engaged in cutting-edge research and scholarly and creative work, the College's faculty members teach their students to analyze critically through various disciplinary lenses – an approach that shapes the ways in which our students perceive and creatively solve problems, not only as undergraduates, but for the rest of their lives. The deep and wide-ranging knowledge they acquire in their classes enables them to deal effectively with complex problems they encounter both here and in the world.
Students are able to acquire such knowledge through the extraordinary richness of the Arts and Sciences curriculum: choosing from over 2,000 courses, undergraduates engage in the depth of a major and the breadth of the liberal arts and sciences. By completing a major, distribution requirements, and electives, Arts and Sciences students learn to think critically and analytically, communicate effectively, write well, and consider problems from many different angles in order to solve them in the most optimal ways.
Students and faculty members here are fortunate not only to be part of the intellectual community of the College of Arts and Sciences, but to be part of the larger University community as well. Because Arts and Sciences faculty members teach core theoretical knowledge, most of the 14,000 undergraduates at Cornell take courses in our college at some point in their careers. This wider community provides depth and diversity of applied and professional studies beyond what a college of the liberal arts and sciences alone can offer. We are proud that the abundant variety and outstanding quality in many fields, including interdisciplinary fields, and emphasis on individual academic freedom and responsibility give the college and university their distinctive character.
Administration
Gretchen Ritter, dean - (607) 255-4146
Barbara Baird, senior associate dean - (607) 255-1097
Scott MacDonald, senior associate dean - (607) 255-1097
Kenneth Roberts, senior associate dean - (607) 255-1097
David N. DeVries, associate dean of undergraduate admissions and education - (607) 255-3386
David Taylor, associate dean of administration - (607) 255-1097
Tricia Barry, director of communications - (607) 255-7165