Courses of Study 2016-2017
[ARCHIVED CATALOG]
Courses of Study 2016-2017
---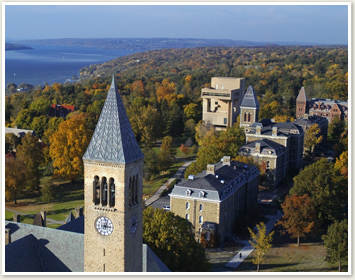 The Courses of Study catalogs Cornell University's diverse academic programs and resources. Explore the side navigation links for information about colleges, departments, course offerings, and requirements for majors and minors. Course offerings are updated throughout the year and are subject to change. Policies and requirements are updated annually. 
General information pertaining to the university is below, including the current roster of scheduled classes, university-wide requirements, and select university policies, initiatives and interdisciplinary centers. Use the My Favorites tool to save selected courses and information to a personal account.
The Courses of Study is published yearly by the Office of the University Registrar, and is only available online. Use the Help button to find codes and definitions, and answers to frequently asked questions. 
After exploring the Courses of Study, learn more about admission to Cornell University. Cornell University is accredited by the Middle States Commission on Higher Education. 
For information about the Weill Cornell Medical College, or the Weill Cornell Graduate School of Medical Sciences, visit weill.cornell.edu.
General Information
 

 

 
 
Courses,
Classes & Exams
 
 
Students
 
 
University
 
 
Catalog
 
 
---