Courses of Study 2011-2012
[ARCHIVED CATALOG]
Johnson Graduate School of Management
---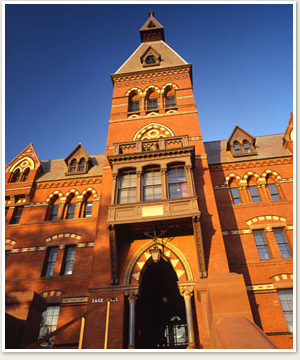 The Samuel Curtis Johnson Graduate School of Management at Cornell University (Johnson at Cornell University) prepares women and men for managerial careers in business. The school offers course work in many disciplines to provide potential managers with an understanding of the complexities of the professional world in which they operate and of the organizations of which they will become a part.
A bachelor's degree or its equivalent is required for admission to the two-year program leading to the master of business administration (M.B.A.) degree. Nearly half of the students have a background of undergraduate studies in arts and sciences, and about one-quarter in engineering. Five percent of the students begin their graduate training immediately after receiving their bachelor's degrees and the remaining 95 percent following work experience.
Combined degree programs allow highly qualified Cornell students to co-register in the school during their senior year, thereby earning a master's degree in less than the usual time.
The doctoral program, administered through the Graduate School, provides an advanced level of education in business for those who seek careers in teaching and research at leading universities.
More detailed information about these programs is available from the Office of Admissions and Student Affairs, Johnson at Cornell University, 111 Sage Hall.
Students in other graduate programs and undergraduate students registered with the university are welcome in most classes.
---