Courses of Study 2021-2022
[ARCHIVED CATALOG]
Bowers College of Computing and Information Science
---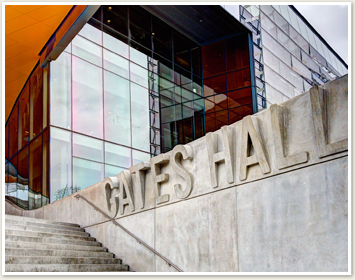 Computing and the Internet are rapidly changing how people work, learn, play and interact, yet our understanding of these changes is often quite limited. Cornell is at the forefront of education and research in the academic disciplines underlying this emerging new age of information: Computer Science, Information Science and Statistics. These disciplines, which span the university, are brought together in the Cornell Ann S. Bowers College of Computing and Information Science (Cornell Bowers CIS). At the undergraduate level, Cornell Bowers CIS offers majors through the colleges of Arts and Sciences, Agriculture and Life Sciences and Engineering, as well as offering minors through all seven undergraduate schools and colleges. Students pursue these degrees through one of the schools or colleges that offer these programs (as detailed below).
All three of these disciplines offer a mix of theoretical and practical education which prepares students for a broad range of career paths, from large companies, to entrepreneurial ventures, to graduate study, and from the private sector to public service. The study of Computer Science ranges from the fundamentals of algorithms to applications such as building Internet scale systems. The study of Information Science bridges the social sciences and computing sciences ranging from investigations of user behavior to applications in the design of user interfaces and the development of social media. The study of Statistical Science ranges from mathematical fundamentals to large scale data analysis and modeling, with applications in areas from finance to data mining. This is an exciting time to be studying the computing and information sciences, and our approach in all three disciplines is to mix enduring fundamentals with applications across a broad range of areas.
At the graduate level, Cornell Bowers CIS offers both professional masters and doctoral degrees in all three disciplines, as well as participating actively in several interdisciplinary graduate fields such as Applied Math, Cognitive Science and Computational Biology. The graduate programs in Cornell Bowers CIS are among the strongest in the country, and both advanced undergraduates and graduate students benefit from a range of advanced courses.
---